It's Monday agian, that means it's time for the blog hop :)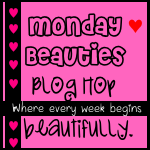 I think this is such a great idea. I'm so glad I came across Nykki's Mane Blog on beautylish!
Here is the post where you can add your link!
If this is your first time visiting Inspired Beauty, welcome! Please leave me a comment so I know you stopped by!
Coming up this week I will be finishing my series on how to cover under eye circles. Here is part one. Part two will be how to choose the right concealer and recommendations. Part three will be application tips and tying up any other loose ends. I didn't intend to make this three parts, but that's how it ended up!
I bought some nail polishes over the weekend and want to share them. I'm trying out a new makeup sponge and will review it later in the week. I'm also hoping to get an 'inspirational' type post out as well :) Oh! and maybe something Halloweeny too!
Looks like I have a busy week ahead of me! :)
I hope you have a great week and thank you so much for reading!
xo, Jaimee